Loving Couples VIII
Kajira & Ulf are back again!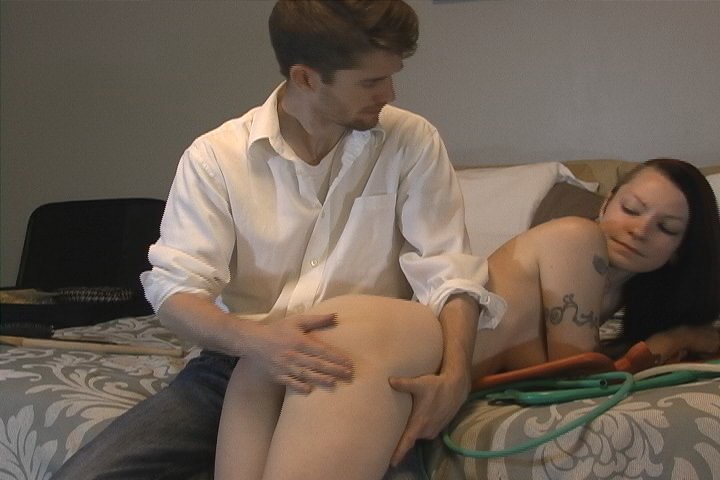 With a 2 Hour 18 Minute video that'll blow your socks off!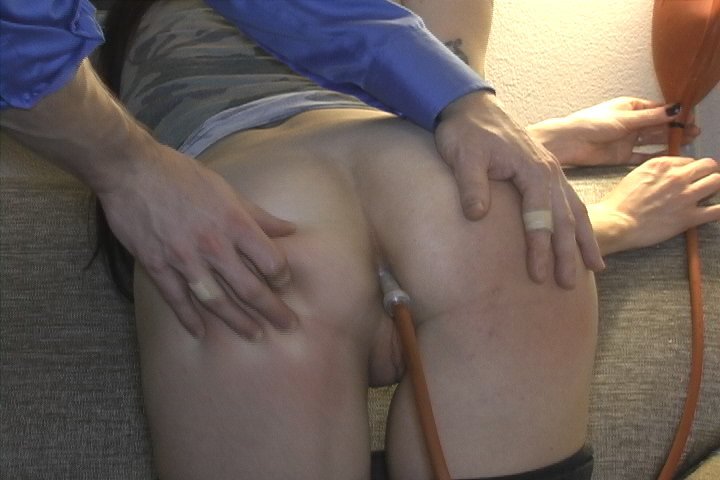 Kajira and Ulf had gone to an old, remodeled B&B for a romantic weekend, but Ulf got called away to a meeting.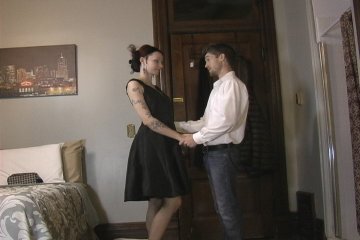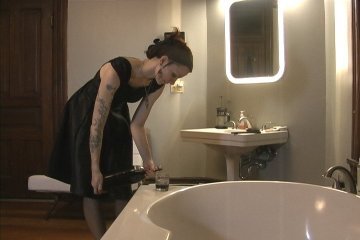 Not one to waste time, Kajira poured herself a glass of vino and proceeded to fill a bag.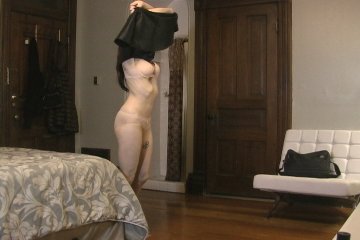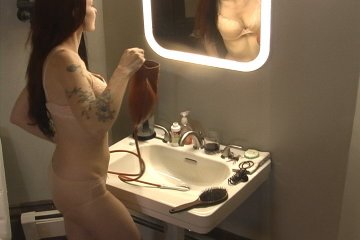 She attached a Silver Bullet, hung it in the shower doorway and got under way.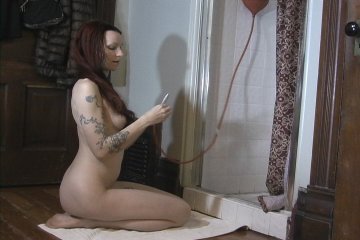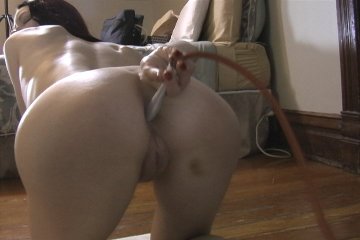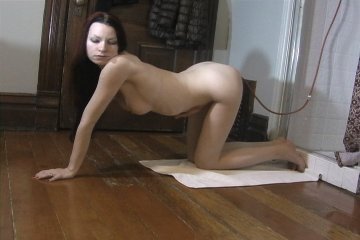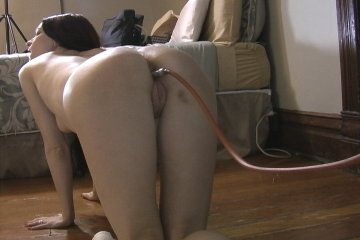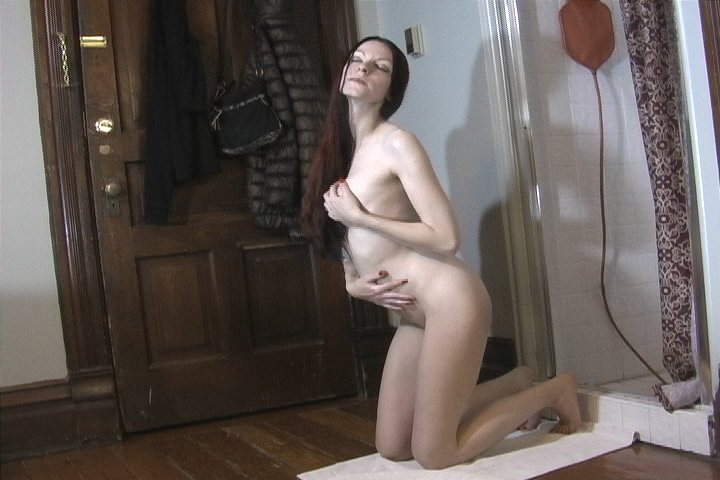 Once the bag was empty and she was full, she held it for a while.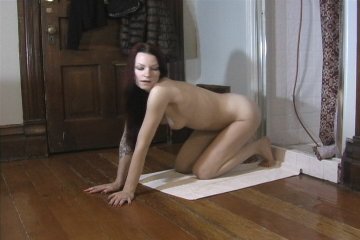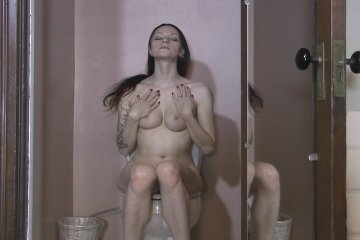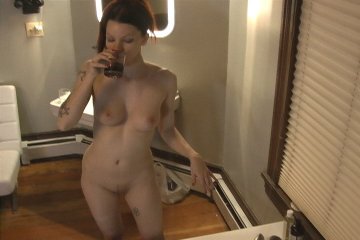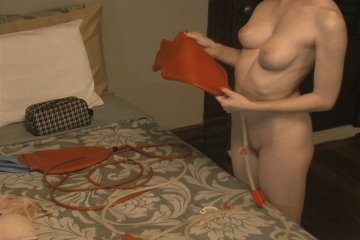 More wine, more enemas.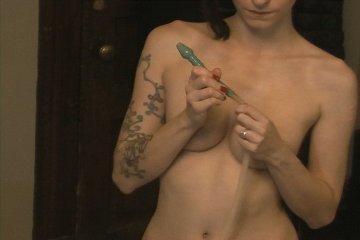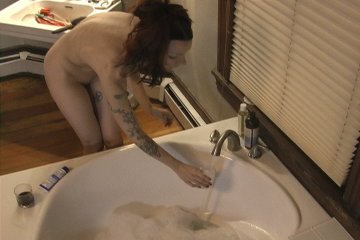 This time, it's the Davol "Petal" with the flow wheel and a radiological nozzle.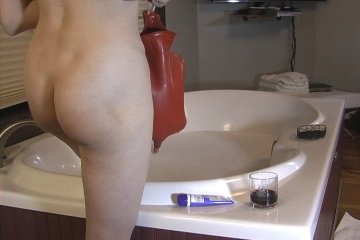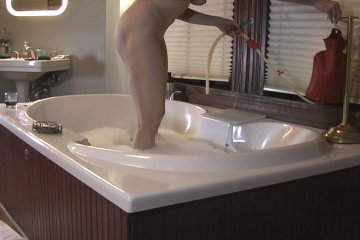 And, this time, it's in the bubble bath!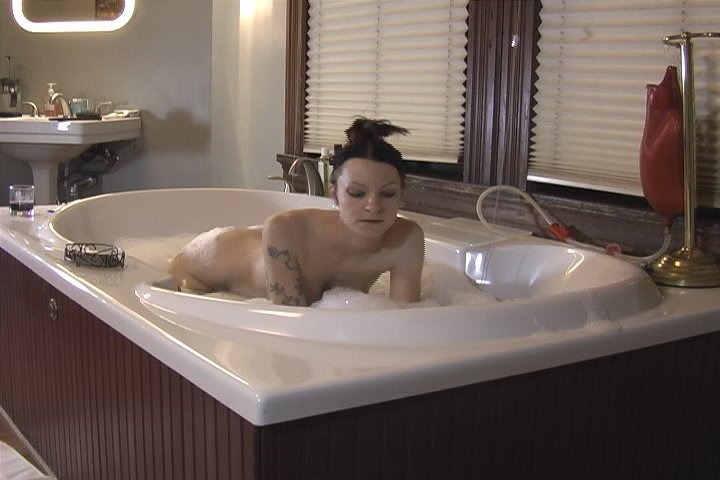 Preparation is everything.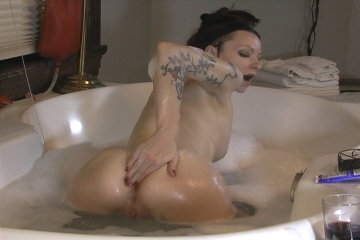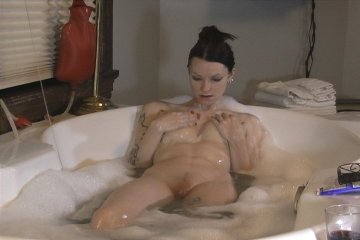 And, Oh! Look who just got back!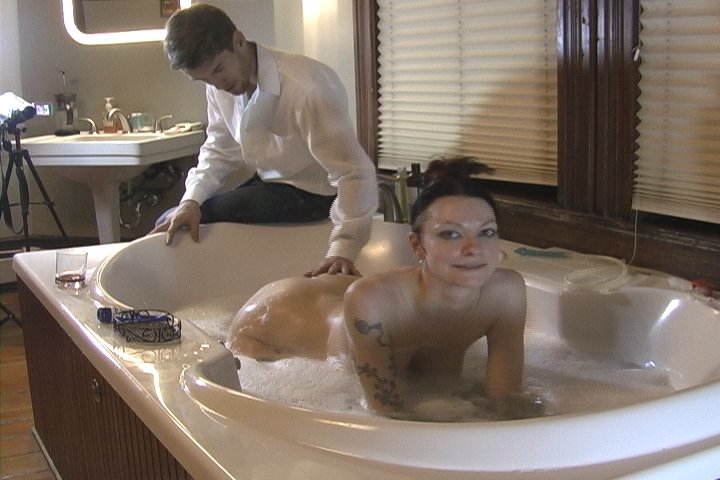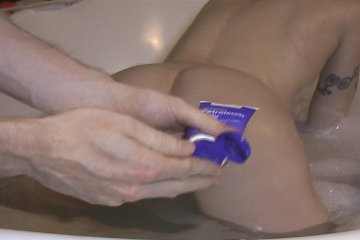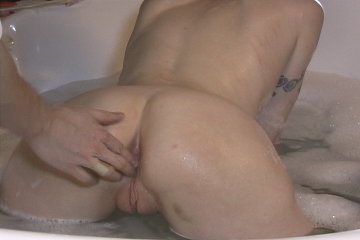 Ulf generously lubed Kajira's rectum.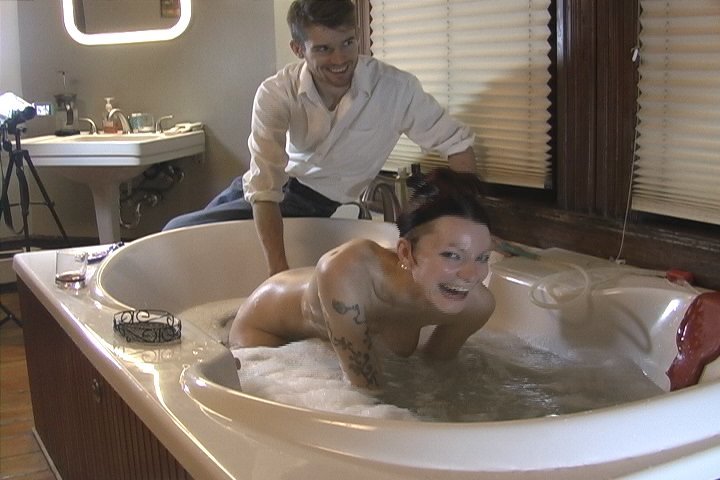 And, KER-FLOP, the bag came loose and fell over the side of the tub, deflated!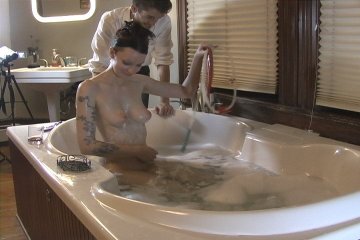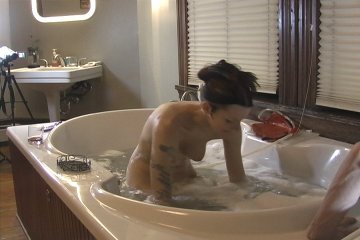 Searching for the little hanger gadget to no avail...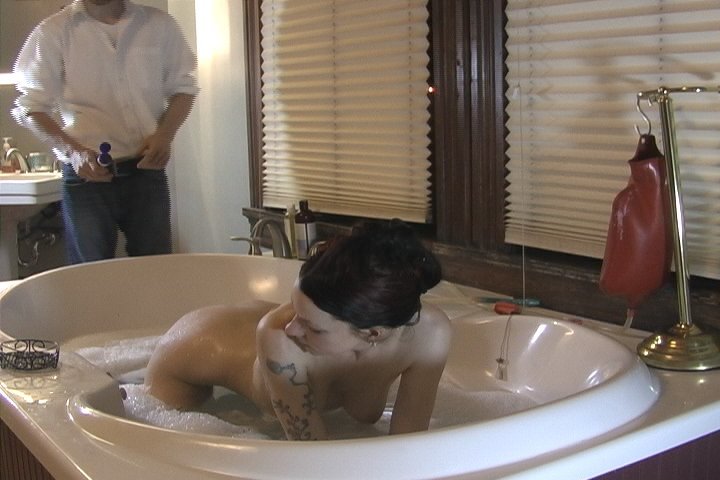 Ulf brought in the big, steel hook!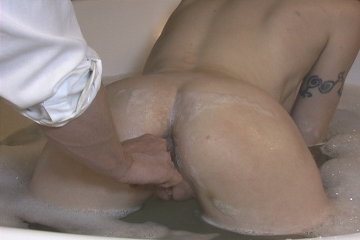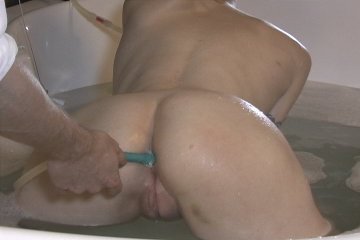 More prep, then the nozzle.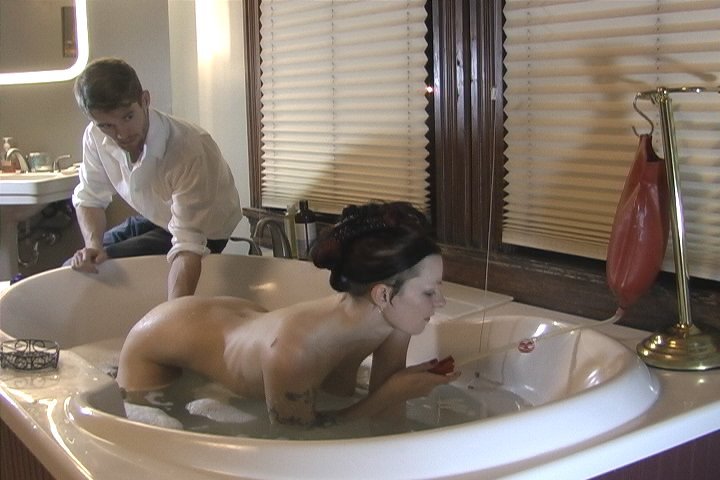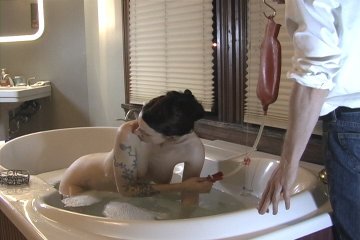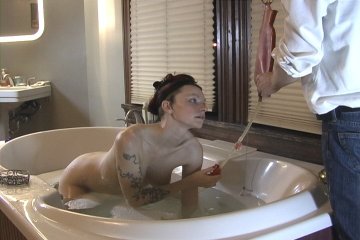 There was enough backpressure that Ulf had to come around the tub and hold the bag up before it would run dry.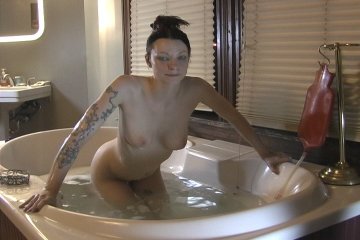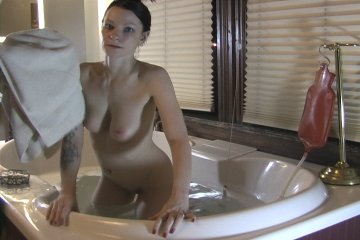 A nice warm towel, then off to the potty.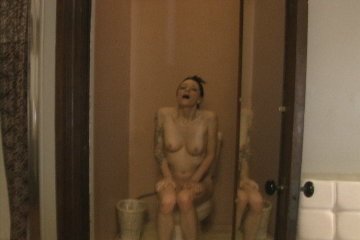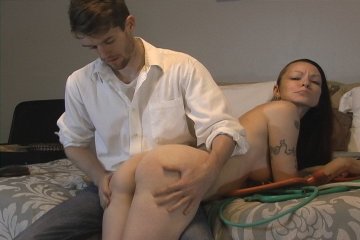 But after the potty comes a surprise.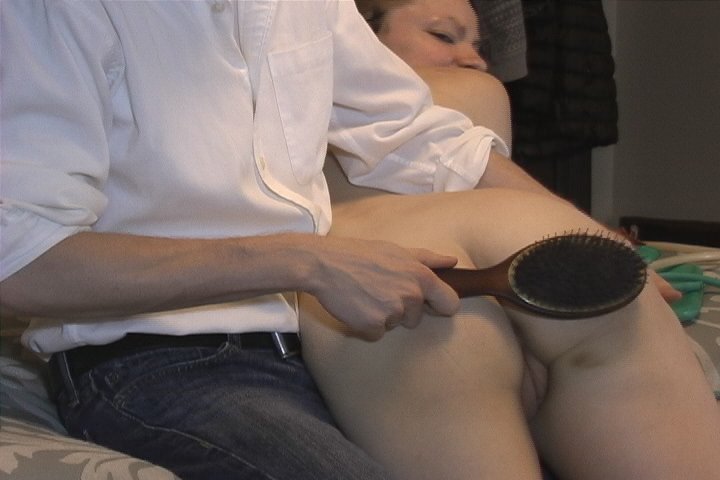 We'll let you imagine how that plays out and take you immediately to the couple's first night in the posh uptown hotel.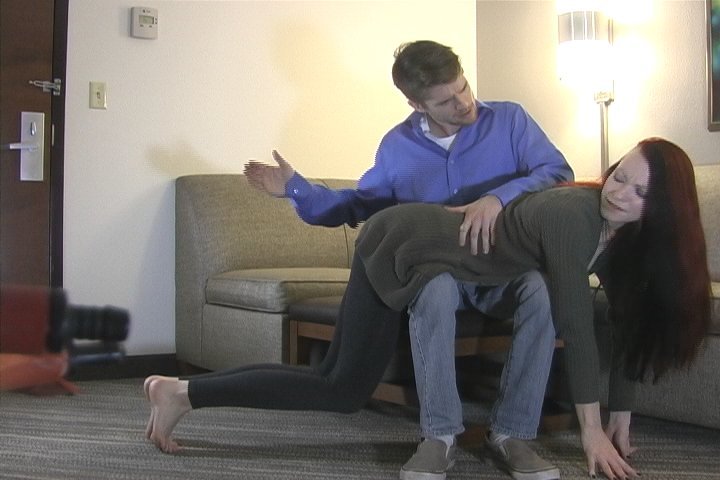 Where they're doing some of the same things.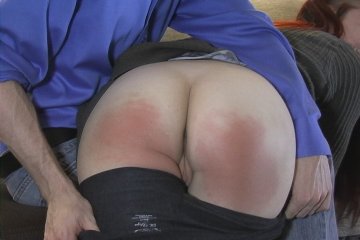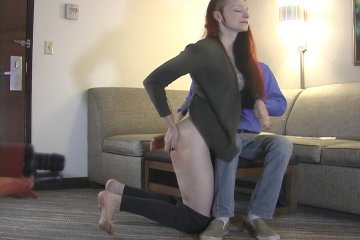 This was Kajira's bottom after the pants-on spanking.
Wait'll you see how red it is after the pants-off spanking!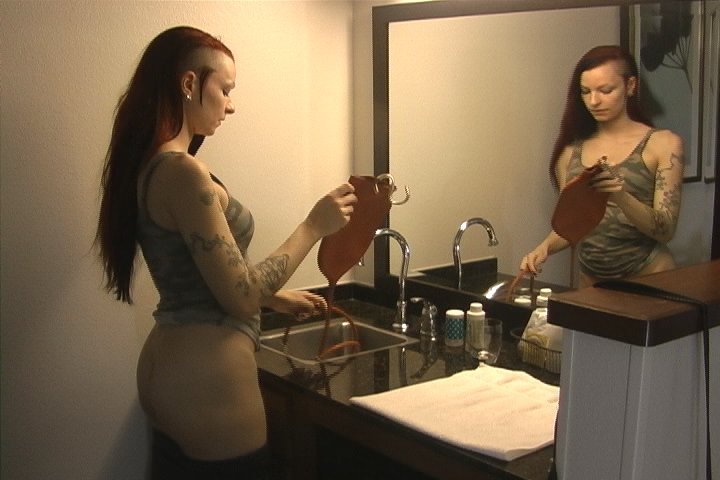 The lovely Davol "Comfy" is up next.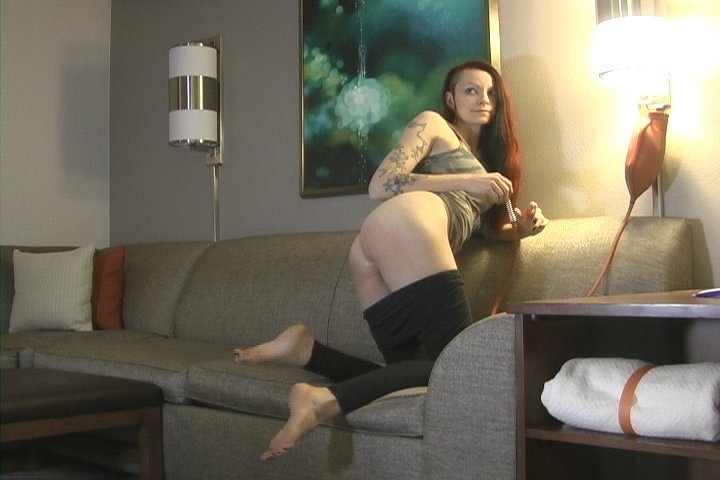 We like this pose. Hope you do, too.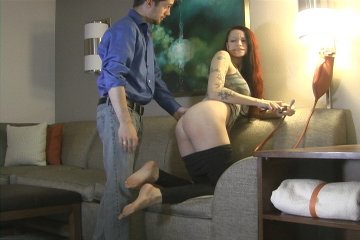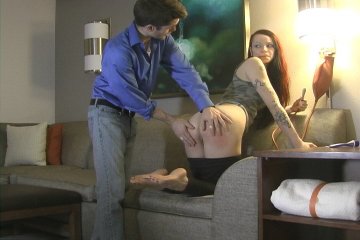 Ulf does the honors and inserts the nozzle.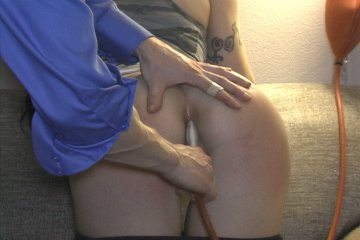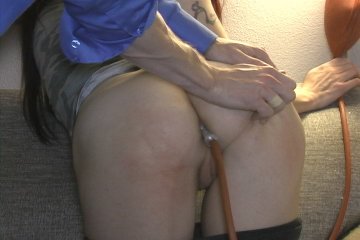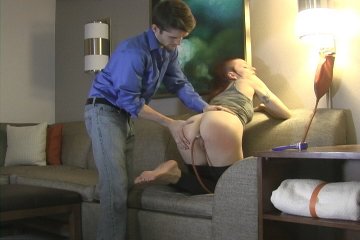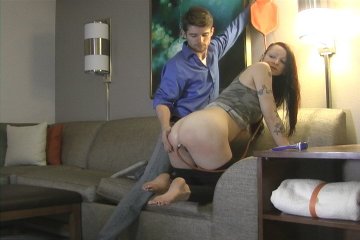 Again, he has to hold the bag up to empty it into Kajira.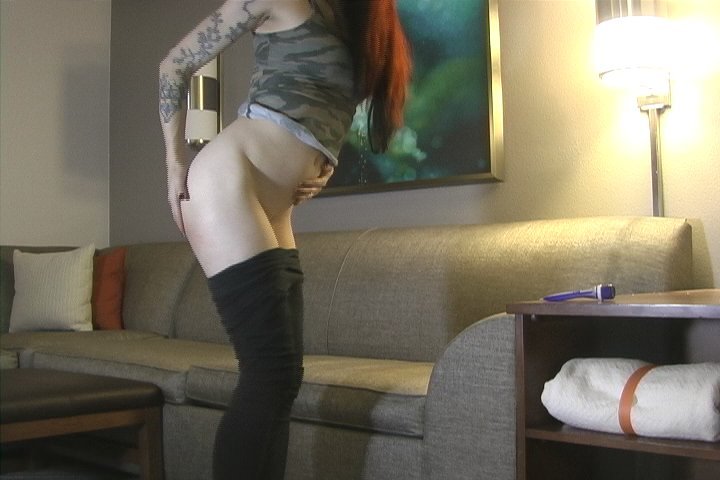 Now THAT'S full!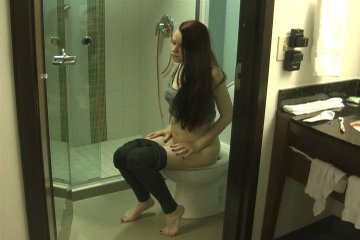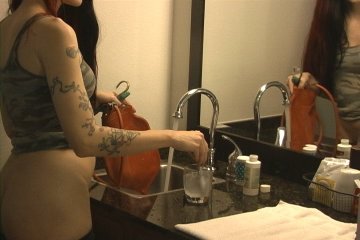 More potty time, then a refill!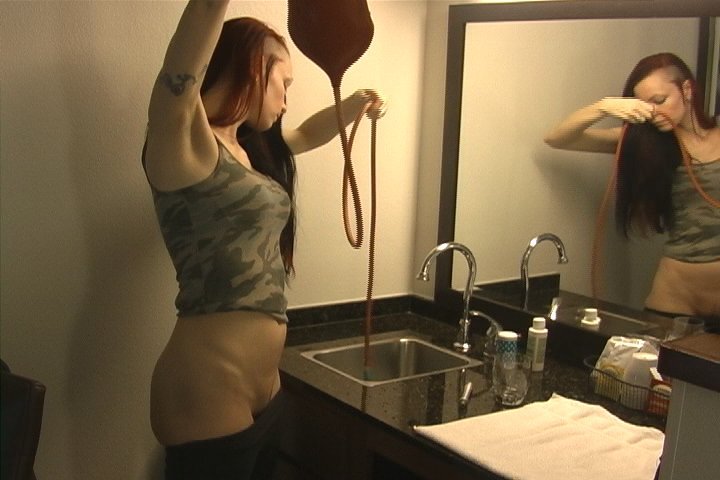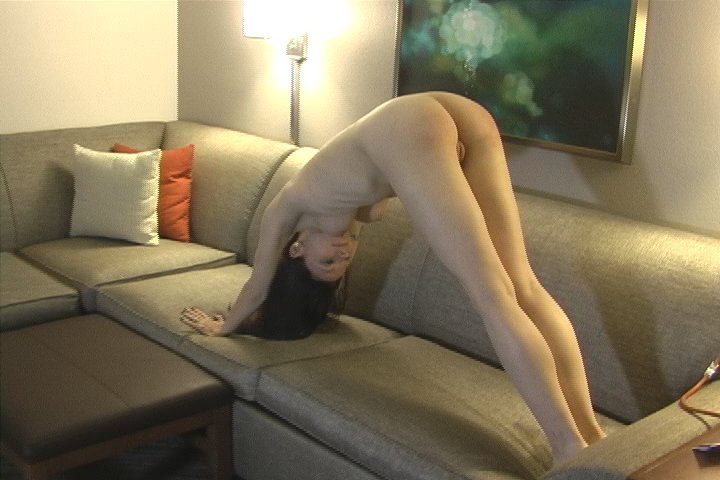 Ulf asked her to take the enema in a variety of Yoga positions.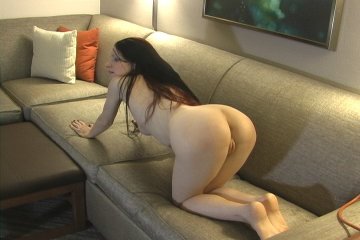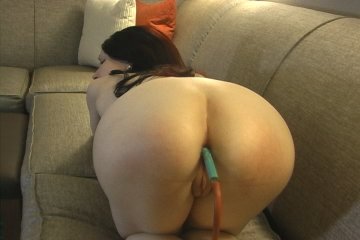 She almost made it, until she got too full.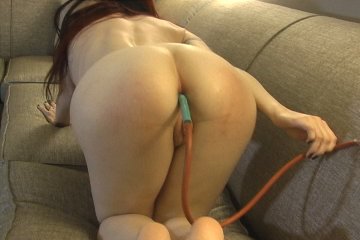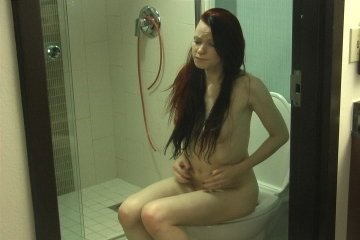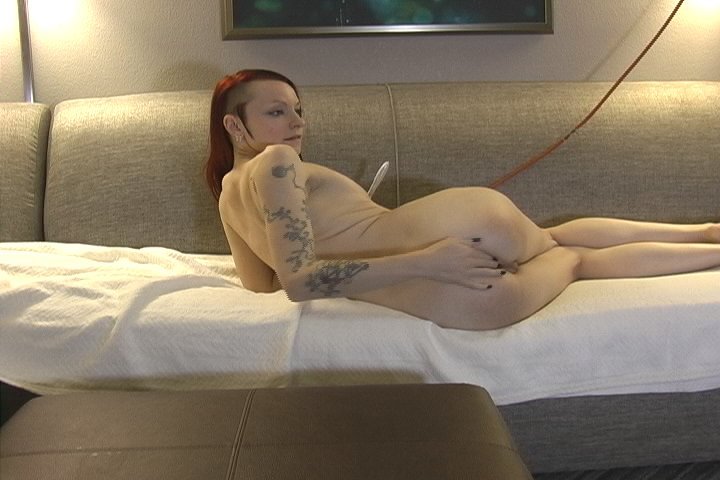 Once more, with the same bag.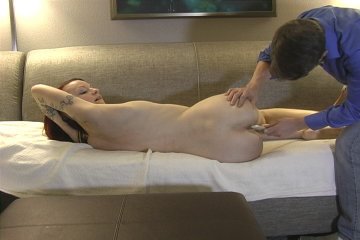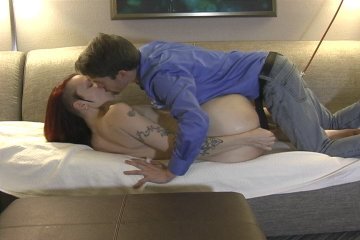 And our full girl runs to the toilet, again!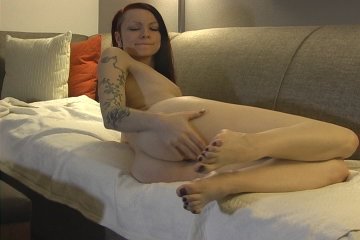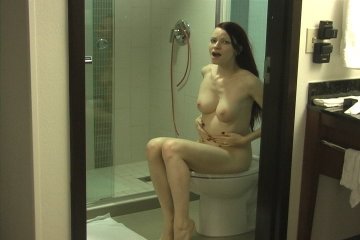 This is where we crossfade back and forth a few times, to show you what one end of her body is doing while Ulf is doing something to the other end of her body.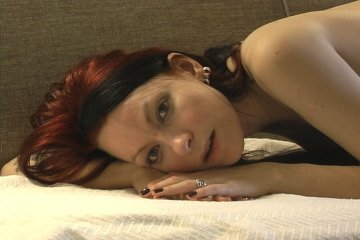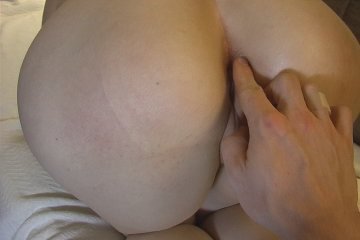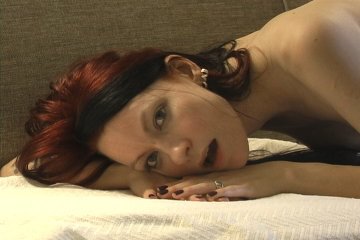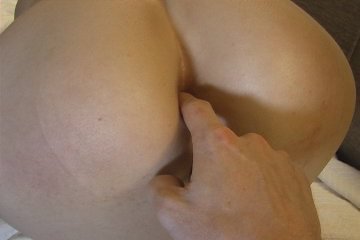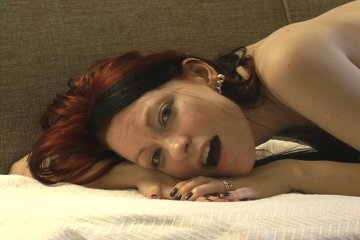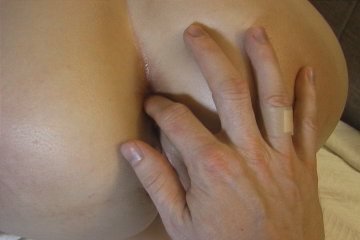 Ulf insists that Kajira try to take the whole blue pumpkin bag. She hasn't a hope!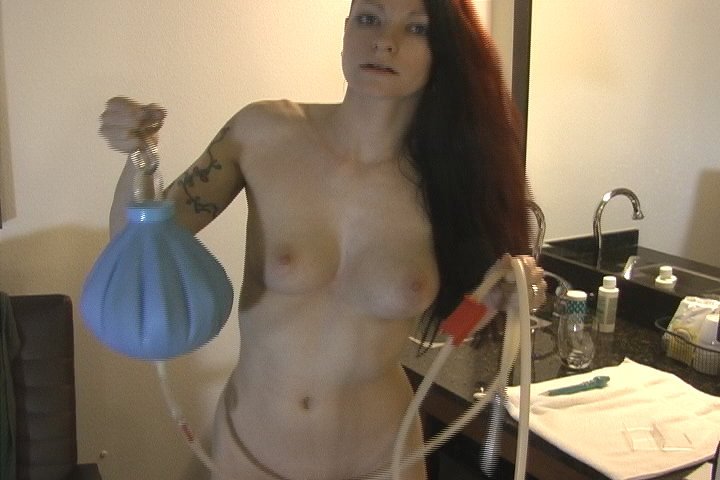 She hangs it in the shower...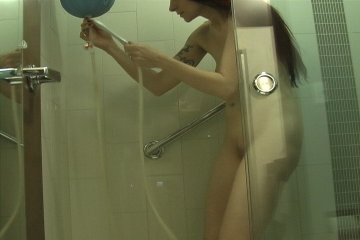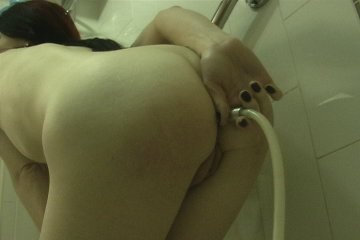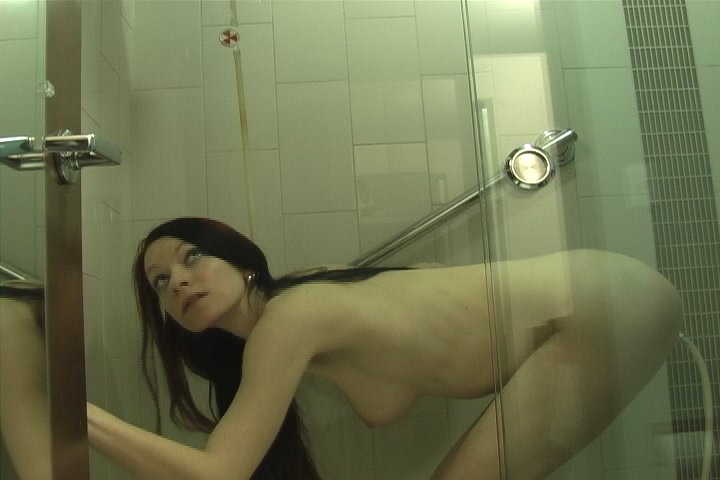 And does a respectable job of trying to take it all...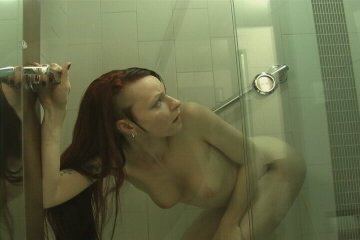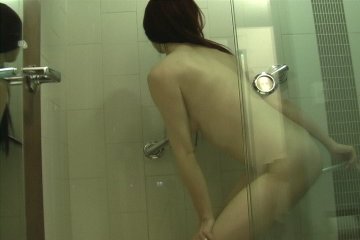 ...but, in the end (sorry) she can't take quite all of it. She then expels clear water in the shower.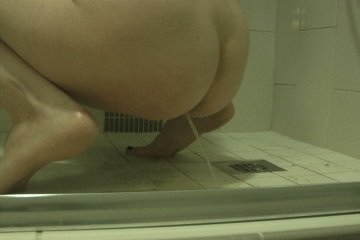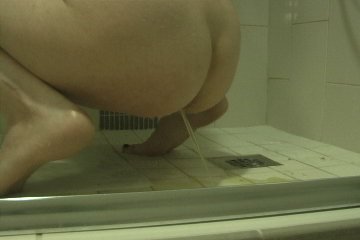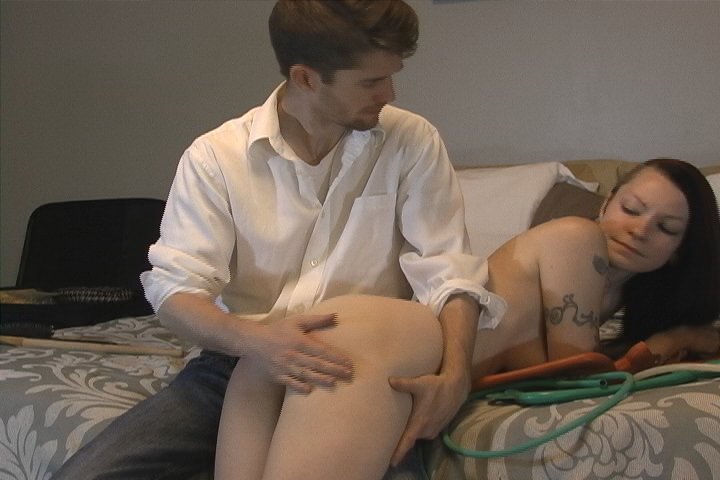 If you liked Loving Couples 7, you'll love this double-length orgy of dominance, submission and colonic cleanliness.
Time: 2 Hours 18 Minutes!
DVD: $34.95
Hi-Res Downloads: $14.99/each Part 1 Part 2
Also in Long-Term Members' Area
Long-Term members get Enemarotica's ten latest hi-res releases right now, plus everything new we'll release during the year of their membership.
18 U.S.C. Section 2257 Record Keeping Compliance Notice
Copyright © November 2015 - The Collector, Inc. and www.Enemarotica.com